Answering Gilbert's Most Frequently Asked Scorpion Questions
July 28, 2020
Scorpions are a challenge for Arizona home and business owners alike. This means that there are many questions and concerns related to a rise of scorpion activity around Gilbert's residential homes, as well as businesses that care for the health and safety of their consumers.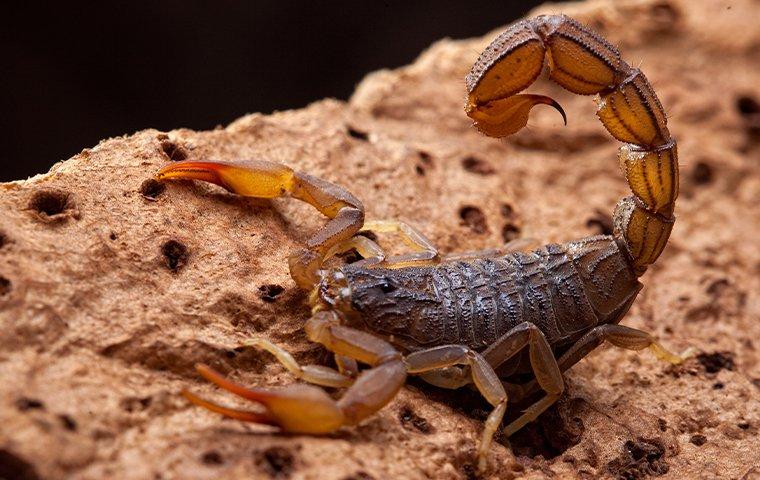 Making terrifying additions to your backyard landscaping, these desert-loving creatures are some of the deadliest insects in North America. Several of the scorpions common to the Gilbert area include:
The Bark Scorpion

The Giant Hairy Scorpion

The Stripetail Scorpion

The Yellow Ground Scorpion

The Devil Scorpion
Gilbert Scorpion FAQ – The Most Important Questions
To help combat the spread of misinformation about these poisonous pests, All Clear Pest Control has compiled the following list of scorpion FAQs for the Gilbert area.
What are scorpions?
Scorpions are eight-legged arachnids that live in arid or desert-like regions. They are easily identified by their curved tails, crab-like pincers, and sharp stingers. Most species of scorpions appear in color patterns of brown, black, and tan, making their identification nearly unmistakable.
Where do scorpions live?
Scorpions can be found all over the globe, specifically in hot or dry areas that receive little moisture. Fallen logs, rock fields, and sandy spaces are some of their favorite locations. These insects are not capable of resting on vertical surfaces, except in the case of Gilbert's deadliest variety, the bark scorpion.
What do scorpions eat?

Scorpions are voracious predators, meaning that lizards, spiders, birds, and even other insects or scorpions are all on their preferred menu.
How poisonous is a scorpion?
All scorpions have a form of venom, but not all scorpions have the ability to harm humans with their stings. In fact, only a very small number of species are classified as dangerous to human activity. There are only 30 species out of 1,500 capable of harming human life. Here in Gilbert, that includes only bark scorpions.
What does a scorpion bite look like?
Most species of scorpions leave a welt that is similar to a bee sting in size, appearance, and pain level. Bark scorpions, which are widely considered to be the deadliest type found in Arizona, may cause additional symptoms. These include muscle spasms, high blood pressure, drooling, or uncontrolled twitching or thrashing. If you or someone you know is stung by a scorpion, it is imperative to seek immediate medical attention.
What should you do if you encounter a scorpion?
As they say with poison ivy, "leave it be." Unless there is a scorpion in close proximity to you or within the home, you should not attempt to handle, crush, or engage the creature. Instead, call for emergency pest control services to deal with the problem immediately, as well as preserve your health.
Stay Safe And Scorpion Free With All Clear Pest Control
No matter how much scorpion activity you have noticed around your Gilbert lawn, even one bug is simply too many. Cutting down on scorpion exposure may help in some ways, but dealing with the populations at their core is the best method of complete extermination. In fact, the safest and most effective way to keep scorpions away from your yard is with professional assistance. All Clear Pest Control is Gilbert's number one trusted scorpion extermination company, with over two decades of experience in the field. Our innovative methods, precautionary services, and caring staff members have kept hundreds of homes safe and scorpion-free in Gilbert and beyond.

Interested in seeing firsthand how All Clear Pest Control can best serve your needs? Call your closest Gilbert branch to speak with a representative, or reach out to us on the web by using our chat tool. Let's conquer your scorpion issues together.