Eliminate Weeds From Your Property Without All The Hassle!
Oftentimes, maintaining your lawn can feel like a full-time job. We know that you want your yard to look its best, but between work, family, and the stresses of day-to-day life, there often just aren't enough hours in the day to make weeding a priority. But at All Clear Pest Control, we can help take some of the work off your plate by getting your weed problem under control. Weeding is one of the most time-consuming lawn care tasks, but with our treatments, keeping your Queen Creek, Chandler, Gilbert, Mesa, or East Valley area property weed-free will no longer need to take up your valuable time! For professional weed control treatments you can trust, reach out to us for assistance!
Our Professional Weed Control Services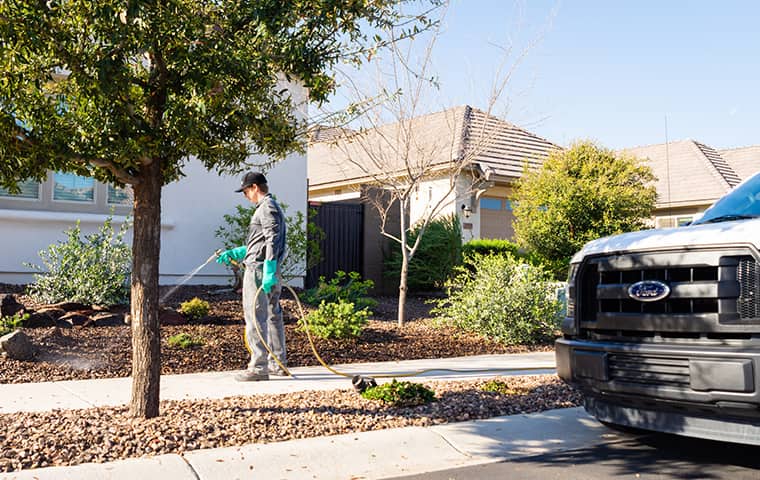 If you're looking to put a dent in the weed problem on your property but aren't sure where to start, we recommend our weeding services. With these services, you can enjoy the benefits of having a weed-free yard without all the extra work!
When you choose our services, no prior inspection is needed before we perform our treatments. All you have to do is give us a call and we'll provide you with a quote for your service over the phone. At All Clear, we value your time and want you to provide you with all the information you need before we begin working.
Here at All Clear Pest Control, our weed control offerings include:
One-time weed control treatments

Ongoing weed control services
For our recurring weed control plans, treatment takes place once a year and comes with a one-year warranty. In addition, we'll return to re-treat any new weeds during our regular service visits, as necessary.

Here at All Clear Pest Control, our weed control consists of treating a combination of both pre- and post-emergent weeds. During your treatment, our highly-trained technicians will apply the product to the yard rock areas around your property to eliminate weeds that are currently active as well as any dormant weeds before they have a chance to grow.
Don't let weeds get the best of you. To request a quote for your treatment or to get started with our weed control services today, give us a call at All Clear Pest Control!

*Please note, our weed control is not a removal service; weeds must be trimmed before service.
Request Your Free Estimate
Complete the form below to schedule your inspection.